Welcome to YouPay
A Pioneering Throne Alternative and Wishtender Alternative
Embracing a New Era of Gifting with YouPay
Welcome to YouPay, a platform where innovation in wishlisting and community engagement converge to redefine the gifting experience. As a progressive Throne alternative and Wishtender alternative, YouPay is more than just another option in the wishlisting world; it's a transformative presence, enhancing the entire gifting landscape. Our mission is to complement and enrich the diverse ecosystem established by Throne and Wishtender, offering unique features, a staunch commitment to privacy, and an inclusive approach.
Celebrating the Innovations of Throne and Wishtender
As a Throne alternative and Wishtender alternative, we acknowledge and respect the strides made by these platforms: Throne.com: With its intuitive interface and extensive product selection, Throne has become a significant player in the wishlist market. Wishtender.com: Through its focus on personalized gifting, Wishtender has set new standards in user experience and customization.
Introducing YouPay
A Diverse and Inclusive Wishlist Platform
YouPay distinguishes itself as a unique alternative to Throne and Wishtender with its distinct features:
1
All-Inclusive Community
Embracing a wide range of users, YouPay stands out as a universal Throne alternative and Wishtender alternative.
2
Versatile Wishlist Accounts
Reflecting the diversity of social media, YouPay promotes multiple wishlist platforms, advocating for variety and broader engagement in the gifting ecosystem.
3
User-Friendly Experience
Our intuitively designed platform offers an accessible and enjoyable experience for all users, marking us as a standout Throne alternative and Wishtender alternative.
4
Expansive Product Selection
Catering to diverse interests, YouPay's product range spans from the latest tech gadgets to unique artisanal crafts.
5
Unparalleled Privacy and Security
Upholding the highest standards of data privacy and security, YouPay ensures confidentiality and protection of user information, both for customers and payers, establishing our identity as a secure Throne alternative and Wishtender alternative.
6
Exceptional Customer Service
Our dedicated support team provides outstanding service, reinforcing YouPay's reputation as a customer-focused Throne alternative and Wishtender alternative.
Exclusive Services of YouPay
Beyond the traditional wishlist model, YouPay offers: Wide Range of Gift Cards: A vast selection of gift cards from global brands provides endless gifting options. Direct Brand Relationships: Partnerships with leading brands enable exclusive deals and direct deliveries, enhancing the overall gifting experience and affirming YouPay's position as a top Throne alternative and Wishtender alternative.
Advocating for Privacy and Anonymity in Gifting
In today's digital age, privacy remains a top concern. YouPay, as a leading Throne alternative and Wishtender alternative, prioritizes protecting users' personal information with advanced encryption and robust security measures, ensuring safe and private activities on our platform. This commitment to privacy and anonymity sets us apart in the wishlist marketplace.
The YouPay Advantage for Creators
YouPay is an ideal platform for creators who wish to connect with their fans in a meaningful way. Our platform provides:
Creators can directly engage with their fans, building a stronger, more personal connection.
2
Simplified Gifting Process
Fans can easily gift their favorite creators, making the process of supporting and appreciating creators straightforward and enjoyable.
Creators can curate wishlists that reflect their personality and needs, providing fans with insights into their preferences and interests.
4
Secure and Anonymous Transactions
Both creators and fans enjoy a secure environment where transactions are kept private, respecting the privacy of all parties involved.
The YouPay Advantage
A Comprehensive Gifting Solution
YouPay is more than just a Throne alternative or Wishtender alternative; it is a comprehensive gifting solution: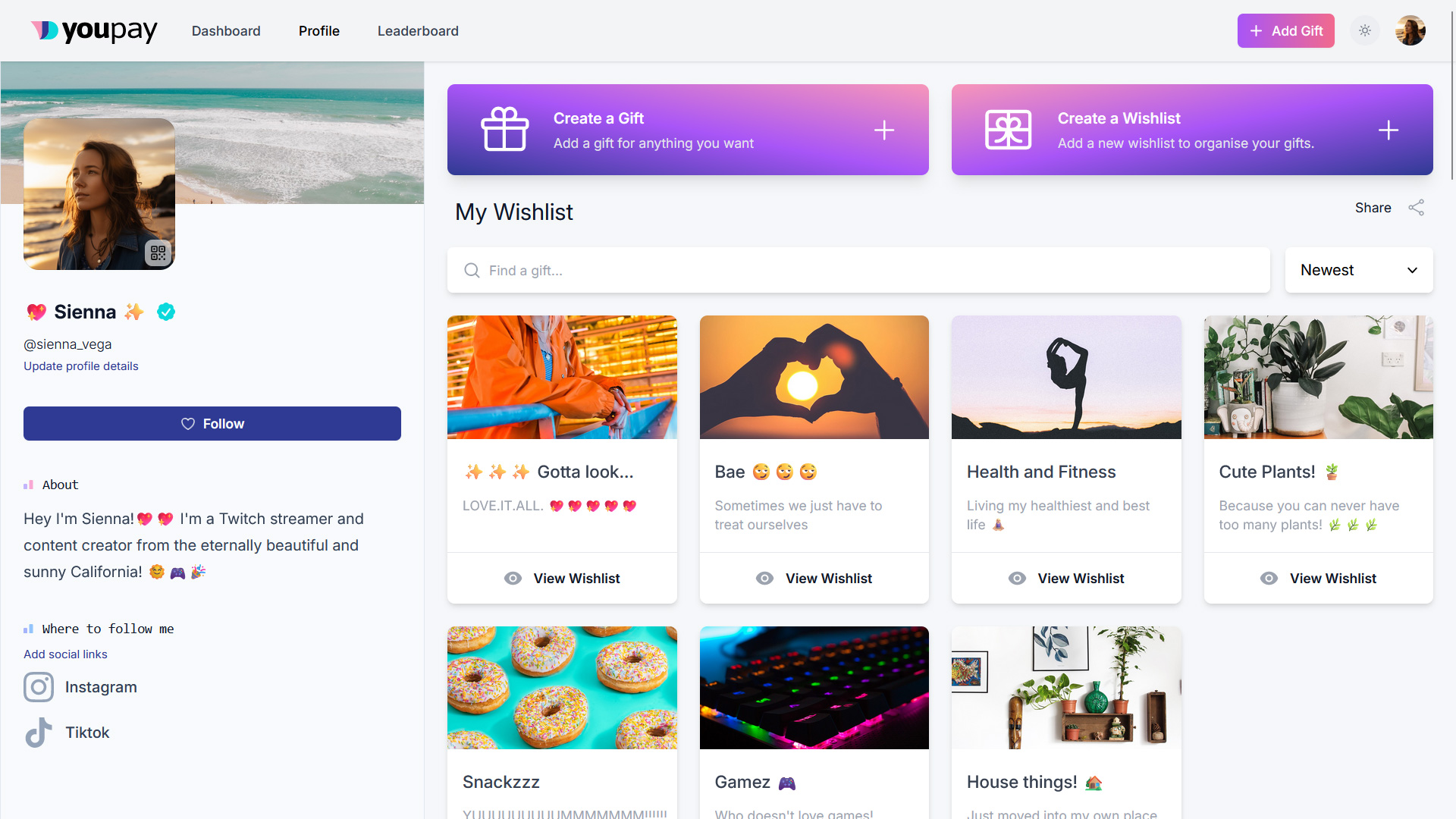 1
Personalized Wishlist Creation
Users can create wishlists that reflect their style and preferences, simplifying the gift selection process for friends and family.
2
Seamless Shopping Experience
Integration with numerous retailers provides a smooth and hassle-free shopping experience.
3
Real-Time Notifications
Updates on wishlist activities, including purchases and new product availability, keep users engaged and informed.
4
Community Engagement Features
YouPay fosters community interaction, wishlist sharing, and celebration of gifting moments.
Enriching the Gifting Journey with YouPay
YouPay offers an enriched gifting journey, focusing on user engagement and satisfaction:
1
Interactive Platform Design
The platform is designed to be interactive, making gifting a more engaging and enjoyable experience for both the giver and receiver.
2
Tailored Recommendations
Leveraging advanced algorithms, YouPay provides tailored product recommendations, ensuring users discover items that truly resonate with their interests and needs.
YouPay's global reach allows users to connect with brands and products from around the world, broadening the scope of gifting options.
Embracing cultural diversity, YouPay offers products and gift cards that cater to various cultural tastes and preferences, celebrating the richness of global traditions.
Future-Forward Gifting with YouPay
As we look to the future, YouPay is committed to staying at the forefront of innovation in the gifting industry: Continual Platform Enhancement: We are dedicated to continually enhancing our platform, incorporating user feedback and the latest technological advancements to deliver an ever-improving gifting experience. Sustainable Gifting Options: Recognizing the importance of sustainability, YouPay is exploring options to include eco-friendly and sustainable products, contributing to a greener future. Collaborations and Partnerships: We actively seek collaborations and partnerships with emerging and established brands, offering our users unique and exclusive gifting options.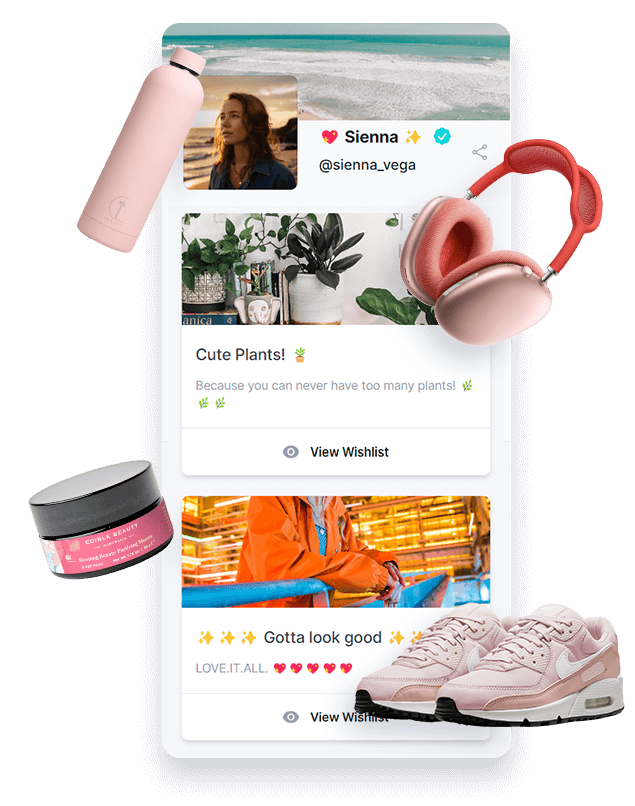 Join the YouPay Community
Where Every Wish is Valued
As a significant Throne alternative and Wishtender alternative, YouPay invites you to a world where every wish is valued, and every gifting moment is cherished. Join us and be part of a community where wishlisting is not just a transaction but a meaningful and enjoyable journey. With YouPay, step into a world of endless possibilities, where your gifting experience is just the beginning. Embrace the future of gifting with YouPay – where innovation, community, and satisfaction converge.